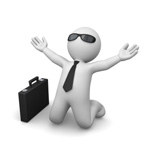 Whether you are a solo entrepreneur, freelance agent or operating your own professional services practice, you know that working on your own requires overcoming an unique set of obstacles that you won't find in most work settings. Even if you have a tight professional network of colleagues, clients and vendors, the fact of the matter is that flying solo means that your success is 100% in your own hands, and failure is not an option.Here at Soloville.com, we specialize is helping solo firms and other small business owners overcome these obstacles by providing members with the tips, tools and community they need to keep to keep their practices on the right track. In addition to the useful articles and posts that you'll find on our site and in our free Success Tools newsletter, Soloville members are also provided with three powerful tools designed to help solopreneurs take their business to the next level:
Marketing Jump Start – An online marketing course presented by the Power Practice Network consisting of four modules that cover the basics of successful practice marketing: Building a Robust Referral Enging, Local Search Marketing Supercharged, Social Media Marketing Primer and Education-Based Marketing for Pros who Hate Selling.
Web Jump Start – Give your practice's online presence the shot in the arm that it needs with a comprehensive audit of your business's website. From search engine results and inbound links to website usability and online conversions, we can provide with a detailed report of what is and isn't working on your website, as well as actionable advise for taking your online marketing campaign to the next level.
Top Marketing Tools – Member of Soloville also have access to the full resource library of marketing tools collected by the Power Practice Network at SuccessTools.com. We've scoured the internet for the top reports, white papers and multimedia tools for solo entrepreneurs so that you can find tons of tips and information relevant to your business in one convenient place.
So, what are you waiting for? Join Soloville today!