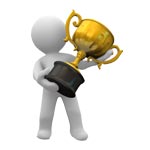 It's no secret that starting your own business isn't easy. The one thing that they don't tell you when you're first starting out, however, is just how much easier running your business becomes once you've gotten over the initial hump.
You've got to struggle to get upstream when you are first starting out and nobody knows who you are, much less how great valuable your services are. Once you've made a name for yourself in your professional niche and have a network of colleagues and clients sending referrals your way, things start looking brighter. The trick is to keep pushing and working smart early on until the results of your labor actually becomes apparent.
One of the ironies of many failed startups is that they go under when they are at the very threshold of success but lack either the means or the foresight for the final push necessary to get over the famous startup hump. As a small business owner or solo entrepreneur, it's important to keep this obstacle in sight when you are in the process of building a business so that you can keep the inevitable initial difficulties in perspective and realize that things will start getting easier once your enterprise starts gathering some momentum.