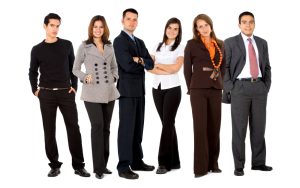 As the economy improves, your business may be looking for helpful ways for finding startup employees. As everyone knows, there are lots of persons available for hire, and there are also quite a few ways to recruit and find suitable workers. Following are some common ways to start your search:
Finding Startup Employees by Using Your Staff
Current employees can be a great resource, since almost everyone knows a person who needs a job, or one who is looking to secure better employment. Your current staff will also be unlikely to give you bad advice, since they will have to work with and possibly train the new employee. Furthermore, because your employees already have a keen sense of your corporate culture, they'll have a good idea of a potential employee's chances of success.
Finding Employees Online Using Craigslist
When it comes to finding employees online, small, medium and even some large employers love Craigslist. Listings are inexpensive or even free in some locations, they appear almost instantaneously, and you can use a blind email address so no one will know your company name. Anyone who does post job openings online knows, however, that the volume of responses can be overwhelming. Some top executive recruiters report that a Craigslist posting will yield over 50 resumes in the first five minutes and up to even 500 responses within a few days. If you do try Craigslist, be ready to sift through lots of information.
Online Job Boards
Sites like CareerBuilder and Monster calculate your posting costs by zip code. Although many feel that these sites are more upscale than Craigslist, these job boards may present you with equal challenges, as companies often report a huge spike in resumes after the initial post. Also, since these are national services, you may see lots of applicants from far-away geographical areas.
Local Colleges, Universities and Trade Schools
Local schools are an excellent place for your posting, and their employment counselors will be happy to help you compose it. If your position requires less-experienced entry-level help, this can be a good place to start. If you're looking for a highly specialized hire, follow the lead of executive recruiters and look to outstanding out-of-state educational institutions.
If you have tried some of the above methods and you still haven't found the proper candidate, you should consider the professional services of a quality employment search firm. These top executive recruiters will speak with you about your needs, identify the exact qualities you're looking for, and do a national search to find the person that best fits your criteria. Of course, you'll have to pay for this service, but much time and effort will be saved since your only job will be to interview pre-screened and highly qualified candidates.