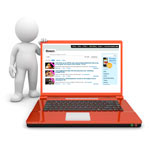 Does your practice's online presence need a shot in the arm? The Power Practice Network's Web Jump Start program provides members with a comprehensive audit of your website and online marketing campaigns so that you can find out what's working and what's not.
Whether you've been promoting your business online for years or are just getting started, our Web Jump Start program will provide you tips, tools and analytical data customized to your particular level of expertise. From advanced SEO and link building strategies to basic web design and online conversions, we know just how to put your website through its paces to provide with the actionable intelligence you need to put your online marketing campaign into overdrive.
Maybe you've had a website out there for your company for a while now but haven't been able to attract the right kind of traffic from your target market. Or perhaps your already getting all the visitors you need but are unsatisfied with your current rate of conversions. By joining the Power Practice Network and taking advantage of our Web Jump Start program, we'll help you get to the heart of what's going on with your website by focusing on four key performance factors:
Thorough Inspection of On Page Search Engine Optimization
Comprehensive Analysis of All of Your Inbound Links
An Inside Look at Your Direct Competitor's Online Marketing Strategy
Objective Investigation of Conversion Rate Optimization
The most successful practices in your niche rely on this type of information to stay ahead of the competition. Let us supply you with the information and advice you need to start improving your market share immediately by joining the Power Practice Network and requesting your own Web Jump Start today!